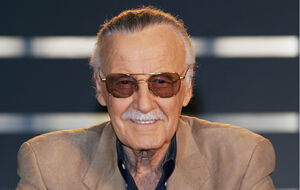 Last night, I had the wildest dream. To be honest, it was the best dream I have ever had. I woke up with the biggest smile and made myself remember it before I would forget.
I dreamt that I had met Stan Lee. We had met at a Wal-Mart and he decided to sit with me outside on a picnic table.
I don't remember our conversation, but it seemed as if we enjoyed each others time together. He was quite delightful. He even talked to my son who was sitting with us writing a story.
At one point, Stan Lee reached over and gave him a few tips on writing comics. My son listened as he continued to write.
Then a huge mob of people started exiting the store. Stan Lee was leaving, but I didn't want to loose him until I got a picture with him.
I called out for my friends to join in the picture, and as the flash set off, I woke up.